PMtutor Lean Six Sigma Black Belt Online Training
This is an 100% eLearning training on demand. This is an asynchronous online training which mean you can download all the study materials to study offline and do the test online at your convenience.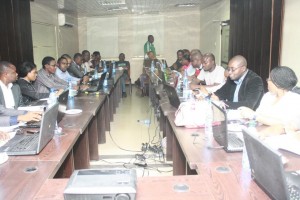 Above Picture: Janaury 2012 – Our Online Class was launched!

You can now work and get Six Sigma Black Belt certified without the hassles of attending and following the regiment of classroom training. No matter your work schedule or perceived geographical limitations, you can attend the training anywhere as long as you have access to the Internet 24 hours 7 days a week. You now have the flexibility of learning at your own pace – those that learn visually can do it through audio visual presentations and those that "learn by doing" have numerous questions with detailed answers.
PDF and video contents can be downloaded via our robust PMtutor eLearning center. Contents can also be transferred to their Tablets, Phones, MP4/MP3 Players, etc. Exam-like Questions can be answered via PMtutor simulation environment making it easy for student to get familiarized with the Six Sigma Black Belt exam. Students can chat, email and ask questions from the Instructors online. Students can also chat and email one another.
All chapters are prerequisite to one another – you need to get 80% of the evaluation test for each chapter before moving to the next chapter and a final mock exam before you are issued the 60 PDU certificate which they can use to maintain your PMP status.
________________________________________________________________________________________
Training Fee – N69, 000
*All trainings are in line with American Society of Quality (ASQ) and International Association of Six Sigma Certification (IASSC).
For more info, kindly click HERE to contact Dipo
________________________________________________________________________________________
PAYMENT INFORMATION: Monies can be paid to:
Access Bank
Poet Solvers Limited
0006551542
OR
UBA
Poet Solvers Ventures
1005870878
Those that paid to the bank should please, send their teller number to this email address (support [at] pmtutor [dot] org). 
N/B: Due to cashless Lagos, we may not collect payments in our office or at the date of training. All payments must be settled via the means above. 
________________________________________________________________________________________
JUSTIFICATION FOR SIX SIGMA
The justification for Six Sigma is simple – it is the single most effective problem-solving methodology for improving business and organization performance. There is not a business, technical or process challenge that can't be improved with Six Sigma. It is about applying a structured, scientific method to improving any aspect of business, organization, process, or person. It is about engaging in disciplined data collection and analysis to determine the best possible way of meeting your customer's need while satisfying yours and minimizing wasted resources and maximizing profit in the process.
The potential of Six Sigma has remained out of reach for the vast majority of professionals – it has been too expensive and complicated for small-and medium-sized businesses, public institution, non-profit organization, educational environments and even aspiring individuals. 15-day training in Six Sigma Black Belt in Nigeria can cost nothing less than Eight Hundred Thousand Naira (N800, 000) in Lagos and more outside Lagos. We have decided to empower Nigerians financially by revealing the mysteries of Six Sigma at affordable and neighbor-friendly price.
Two dramatic things happen to those who attend this workshop. First they will see their world very differently. They see cause-and-effect connections, recognize inputs, process flow, outputs and understand variations. Second, with this newfound understanding and problem-solving knowledge, participants will make improvement in their personal lives and work environment. These changes in mindset alone eliminate countless frustrating problems and add value worth millions and billions of Naira.
________________________________________________________________________________________
Why Get Certified?
Certification is an impartial, third-party endorsement of an individual's professional knowledge.
Certification evaluates whether an individual possesses the education, experience and professional knowledge to meet industry standards.
Certifications ensure companies and organization that their training investments in their employees are satisfactory.
Certification allows an individual to participate in their own professional destiny.
Certifications are portable since they do not depend on one company's definition of a certain job or level of training.
IASSC Certification is one of the impartial third-party endorsements of an individual's professional knowledge of the Lean Six Sigma standards in the industry.
"Knowledge does not grow like a tree where you dig a hole, plant your feet, cover them with dirt, and pour water on them daily. Knowledge grows with time, work, and dedicated effort. It cannot come by any other means. "– Ed Parker
________________________________________________________________________________________
Listed below are some of the topics covered in the course:
History of Quality
Definition of Quality – service or product
Gurus & their contribution to Quality
An Enterprise View
Leadership
Six Sigma Roles and Responsibilities
Team Formation
Team Facilitation
Team Dynamics
Time Management For Teams
Team Decision making Tools
Management and Planning Tools
Team Performance Evaluation And Rewards
Overview of DMAIC
Important Stakeholders
Impact On Stakeholders
Critical To X Requirements
Benchmarking
Business performance measures
Financial measures
VOC
Kano's Customer Satisfaction Levels
Juran's Customer Needs
Market Research
CTQ Flow down
QFD
Performance Metrics
Project Charter
Charter Negotiation
Project management plan and Baselines
Project Tracking
Processes, process flow metrics, inputs and outputs
Process maps and Flow chart
SIPOC
Data Type & Measurement scale
Data Collection
Sampling strategies
Fishbone Diagram
Relational Matrices or Prioritization Matrix
Basic Statistics
Analytical Statistics
Gauge R & R
Process Capability Analysis
Correlation and Regression Analysis
Testing of Hypothesis
FMEA
Gap Analysis
The Five Whys
Pareto Diagram
Tree Diagram
Non-value added activities
Cost of poor Quality_(COPQ)
DOE
Poka-yoke
5S
SMED
ContinuousFlowManufacturing
Kaizen
Kanban
Theory of constraints
Risk analysis
Statistical Process Control
Other Control Tools
Maintain Controls
Sustaining Improvements
DFSS
Final Mock Exams (8 PDUs)
________________________________________________________________________________________
More on PMtutor Menu