MANAGING SUCCESSFUL PROJECTS WITH PRINCE2
100% Online Training – eLearning on Demand: This is an asynchronous online training which mean you can download all the study materials to study offline and do the test online at your convenience.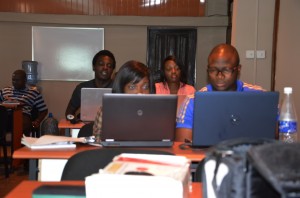 Above Picture: Delegates are working on their assignments at PMtutor Online
You can now work and get PRINCE2 Training without the hassles of attending and following the regiment of classroom training. No matter your work schedule or perceived geographical limitations, you can attend the training anywhere as long as you have access to the Internet 24 hours 7 days a week. You now have the flexibility of learning at your own pace – those that learn visually can do it through audio visual presentations and those that "learn by doing" have numerous questions with detailed answers.
PDF and video contents can be downloaded via our robust PMtutor eLearning center. Contents can also be transferred to their Tablets, Phones, MP4/MP3 Players, etc. Exam-like Questions can be answered via PMtutor simulation environment making it easy for student to get familiarized with the PRINCE2 exam. Students can chat and ask questions from the Instructors online. Students can also chat with one another.
You need to get 80% in the Evaluation Test to get your certificate! 
Price is N10, 000 only for PRINCE2 Online
PMtutor Online PACKAGE MATERIAL INCLUDE
60 hours of video training
PDF Slides made Simple for understanding rather then memorization
Certificate of Participation
600 sample questions
1 months access to PMtutor Platform
Watch on your computer
Watch on your portable player
Save 125K versus other similar PRINCE2 course
Money-back guarantee if you do NOT pass PRINCE2 Foundation at first try
________________________________________________________________________________________
Kindly click HERE to get PDF copy on how to use the PMtutor Online Training or watch the video below:

________________________________________________________________________________________
If you are interested in PMtutor self study for the total sum of 10K, please kindly see payment information below
Access Bank
Poet Solvers Limited
0006551542
OR
UBA
Poet Solvers Ventures
1005870878
Those that paid to the bank should please, send their teller number to this email address (support [at] pmtutor [dot] org).
N/B: Due to security reasons, we may not collect payments in our office or at the date of training. All payments must be settled via the means above. 
________________________________________________________________________________________
Snapshot of the Our approach to the PRINCE2 Course.
Introduction
Benefits of using PRINCE2®
Why projects fail
Project Lifecycle
PRINCE2® Process Model
Overview of the 7 PRINCE2® processes and how they are used throughout the lifecycle of the project:
Starting Up a Project – define the project; create business case; identify customer's quality expectations
Directing a Project – authorize the project and stage plans; decide how to deal with issues
Initiating a Project – identify the products that will be produced; plan the project; set up controls and files
Controlling a Stage – activities performed by the project manager on a day to day basis to manage a stage
Managing Product Delivery – products are developed and quality is reviewed
Managing Stage Boundaries – create all stage and exception plans
Closing a Project – formal customer sign off; capture outstanding issues for future reference
PRINCE2® themes 
Each of the 7 PRINCE2® themes of a project and how they are used by the PRINCE2® processes:
Business Case– A PRINCE2 Business Case drives all decision-making in the project.
Organization – The Organization theme defines and establishes project roles and responsibilities for a PRINCE2 project.
Quality – In PRINCE2, quality focuses on ensuring that the project's products are fit for purpose.
Plans – Plans are the vehicle used to define how, where and by whom the project's products will be delivered.
Risk – PRINCE2 looks at risks relative to the project's objectives.
Change – The Change theme in PRINCE2 encompasses configuration management, issue management and change control.
Progress – Progress refers to the mechanisms used to monitor and compare the actual project progress and performance against the planned values.
 _______________________________________________________________________________________
More on PMtutor Menu