FREE REPORT: 7 Reasons Why Ladies Date the Wrong Guy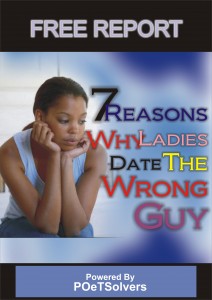 I read somewhere that it is easier to make money than make a difference; I witnessed this first hand when I had to choose between applying my limited resources to either making money or making a difference. After careful analysis, I chose the former (the keyword here is limited resources) but on hindsight, I realize that I could make a difference in someone's life and in turn make money in the process. However, this would require a skill-set called patience (not a popular virtue I must admit).
I believe that everybody wants to make a difference in someone's life but one way or the other; we concentrate on our survival rather than think of our neighbor in pain. Well, I guess we have to love ourselves first before entertaining a remote thought of our neighbor in need; the commandment was LOVE YOUR NEIGHBOR AS YOURSELF. There must definitely be a reference (which happens to be you) to use in loving a neighbor. I hope this last statement would not kick off a controversy.
Please, no controversy: let's  just get to the crux of the topic; I realized that my earlier write-ups about personal relationships concerning male and female counterparts have drawn a lot of attention amongst the female readers: I get mails constantly seeking solutions to their relationship issues. There is one particular issue that made me realize the urgency in bringing out a report that would give directions to all these pent-up pain and distress especially when it comes to dating. Please, review the issue below:
Subject: CHRISTIAN COUNSEL NEEDED, DESPERATELY
Message: Sir, please I am a 27yr old female Christian sister. I am on the verge of calling off a 5months old relationship that means so much to me. I don't know if I am on the right path. You see I got introduced to this guy by a mutual friend of ours. There were some physical things I didn't like but he is such a genuine Christian and I focused on that. I have always wanted a good Christian but they seem so hard to find so when I saw this one; I was so happy but he doesn't seem to care about me so much. He doesn't make me feel important, can never use endearing words, hardly craves to see me though he calls me twice daily. But we live in the same town; he thinks we can do with calls most time. Whereas, the reverse is the case for me: When I offer to help him clean his house or cook his meals when he is at work, he turns down the offer. He feels I am infatuated and keeps saying he has only agape love for everyone including me but Eros he can only give to his wife. But how am I so sure he is capable of that at all or if he can ever be crazy about me. I just wonder if I wouldn't forever beg him to show me love. but he is a good Christian but is that enough to get married to someone as he talked marriage from the onset. Shouldn't people who are in love be crazy about each other? I have talked and talked and I am now tagged a nagger but I am frustrated sincerely I need a prayerful counsel please. God bless you
When I read it, I was first taken a back; I knew that whatever I counsel would make a difference in the life of this young lady (either positive or negative). I was not the Holy Spirit so I knew I could never really counsel her adequately but she saw me as a contact to resolving her issue. So instead of concocting an advice; I set up a meeting online to get more insight into the issue. I knew what the issue was but I knew the most effective way of resolving this issue is for her to discover the answer herself through the prompting of the Holy Spirit.
I asked for her address and couriered about five Christian films from my collections  that I believe would speak to her and help her understand what she was going through. The films were FIREPROOF, THE PERFECT STRANGER, ANOTHER PERFECT STRANGER, FACING THE GIANT, EVERY YOUNG WOMAN's BATTLE. I knew she would be able to pick up the sensors of the Holy Spirit if she watched those moviz. I was glad I never intervened personally in the whole thingy because true to my beliefs, she called me three days later teaching me what the Holy Spirit taught her while watching the film.
I called her a month later and the testimony was reassuring. I knew God has used me to make a difference in her life. I started wondering if this is not what we are called as Christians to do. By taking time from our busy schedule to attend to a brother/sister in need is one of the things that make God happy. I am actually giving out a FREE REPORT that would make a difference in people's life and I need your help to spread this report. It is one report that I believe would speak to you.
However, I guess I am a bit controversial, so you can read my earlier write-up first on relationships before opting-in for the this free report. kindly click HERE to read 7 Reasons Why Ladies Get Hurt in A Relationship.
It is a 25-page report that was researched and written by the POeT Solvers Team to make a difference in the lives of our sisters. In order to get this report, please send the italic mail below to me[at]dipotepede.org copying three (3) email addresses of your friends. We would send you the link to download this report. Please, choose the friends carefully: You are going to be making a difference in the person's life by doing this. Remember, whatever you do for your fellow brethren, God would do for you.
Dear friend,
Dipo Tepede is giving out a 25-page FREE REPORT that I believe you should look into. The title of the report is: 7 Reasons Why Ladies Date the Wrong Guy: Taking your time to read it might be the answer to the issues you have been battling with. You may click the link below or copy the link and place in the address bar of your browser to get instructions on how to get it.
http://www.dipotepede.org/dipos-books/woman-palaver/

Best regards,