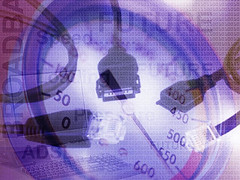 About 4years ago, I read an article blogged by Gbenga Sesan titled something like "Take away your VISA and give us Broadband". It was actually incisive and revelatory at the same time. He argued that if electric power and broadband became a ubiquity, we would have fewer people on queues in the VISA offices. He used a personal anecdote to substantiate his point and after many years of enjoying the privilege of broadband services in Nigeria, I can safely say he has a strong point.
A majority of my business is done on the Internet so I may be biased on how the Internet has positively changed the Nigerian culture so I wont go that route. However I will focus on the broadband services in Nigeria and their effectiveness. I came across the Internet in 1999 during my undergrad days in OAU and my passion for it has continually increased since then. Due to this passion, I have acquired up to 9 different Internet Service Providers' modems since 1999 and only one has been consistently stable and great.
Two out of the nine modems have been stable but only one out of the two stable ones has been really great. I watch everything on broadband from the latest premiership league to the latest series on American TV. I do courses online where someone from China can remotely access my desktop to teach me effectively. What about cheap quality phone calls? I call N10 per minute to Nigerian mobile networks and far cheaper internationally. I do majority of my businesses from the comfort of my bedroom closing deals via the Internet.
I have been with Swift Broadband since 2007 and it has saved me a lot of money. My 2MB 24hrs subscription gives me 120 minutes free calls to any telecom network in the world and unlimited data services on weekend and in the night, which is exactly when I do my heavy browsing. I can also share my wireless modem with unlimited users and Swift Broadband has plans for different demographics from students, corporate executives to corporation. You can click HERE to access their website and their various residential plans.
I have tried other networks in between but none has truly measured up. It is a duty to celebrate something that works in Nigeria. I always wanted to inform a lot of peeps about this good Internet service provider in Nigeria but I have always put it off due to one thing or the other. When one of their staffs called me up about an amplified bonus they were having, I knew this was the time to sing the song. If you are interested in joining this stable network and get a bonus 30 days free broadband service, you can click HERE to contact moi. Have a lovely day!