We understand that some people may not be able to attend the classroom training for one reason or the other, we recommend the DVD Classroom Training. We guarantee 100% money-back guarantee if you do not pass your PMP exam at first try. This is targeted at those who live outside Lagos and those who do NOT have time to participate in our classroom training in PMP and CAPM and wants to experience the classroom environment and watch 7 of our PMP certified Facilitators via DVD. For scope, schedule and budget to participate, see below: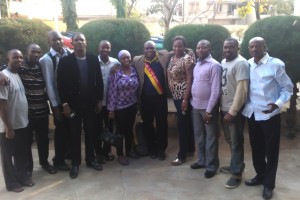 Above Picture: Dipo Tepede taking Hygeia Doctors on Project Management in Ilorin, Kwara State
DVD Classroom + Online Training: We have employed the services of 7 experienced Project Management Professionals to bring you the full benefit of the Classroom training in a DVD platform. Now, you can sit in the comfort of your home and get trained via your flat screen TV or you can relax yourself at work during break and steal at your notebook.
The DVD packs are couriered to your destination in any part of Nigeria FREE
DVD SELF STUDY PACKAGE MATERIAL INCLUDE:
40 hours of Classroom Training on Video
Comprehensive guides covering all knowledge areas
35 Contact Hours certificate
A PMtutor Branded Notebook and Pen
2500 sample questions
Watch on your flat screen TV
Watch on your portable players, notebooks, etc
30-day money back guarantee
________________________________________________________________________________________
Please, watch below the trailer of the DVD Classroom Training
________________________________________________________________________________________
*ALL DVD PACKAGE WOULD BE DELIVERED THROUGH FEDEX AND RECEIVED MAXIMUM OF 48HRS AFTER PAYMENT.
If you are interested in DVD self study for the total sum of 25K, please kindly see payment information below:
Access Bank
Poet Solvers Limited
0006551542
OR
UBA
Poet Solvers Ventures
1005870878
After payment, kindly  send your teller number to this email address (support [at] pmtutor [dot] org).
OR
Pay ONline with your Interswitch Verve or Naira Master card
1. Visit www.pmtutor.org OR click HERE
2. Click on "COURSE/ENROL" at the header menu
3. Go down the page and look for "PMtutor DVD"
4. Click the Interswitch Verve Card Logo corresponding to the course.
5. Follow instructions to make payment.
N/B: Due to security reasons, we may not collect payments in our office or at the date of training. All payments must be settled via the means above. 
________________________________________________________________________________________
More on PMtutor Menu
1. To view Faculties, Testimonies and Pictures of Events. Click PMtutor HERE
2. PMP and CAPM certification courses. Click PMP and CAPM HERE
3.  Six Sigma Black Belt Certification courses. Click Six Sigma HERE
4.  PMI Certification courses. Click PMI HERE
5. Project Management Software courses. Click PM Software HERE
6. Discounts, Scholarships and FREE Training. Click Scholarships HERE