This training is specific for those who cannot attend the classroom training for one reason or the other. It is asynchronous in delivery and is suited for those who prefer self-study. Please, see details below: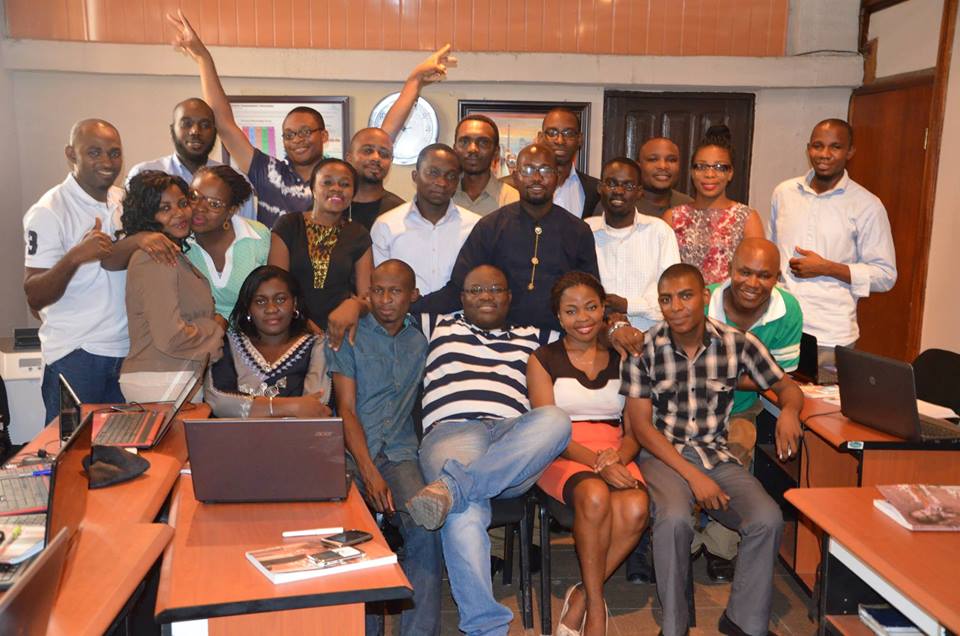 All training takes place at our e-learning platform (www.pmtutor.org)
Courses are relatively more affordable than the brick and mortar counterpart and carry the same certificate and quality assurance.
You can study offline by downloading the videos and pdf materials to your workstation or mobile platform.
Its is a 24-7 access, hence you can study anytime, anywhere
It guarantees minimal downtime, as server is located with one of best hosting company in the USA.
It can be access through any device like mobile phones, tablets, laptops, desktops
It ensures understanding of the course through the pace-study method.
All courses begin immediately after payment and candidates are advised to download PMtutor Guide here to help you navigate the e-Learning platform.
Summary of the Cost Structure for the Courses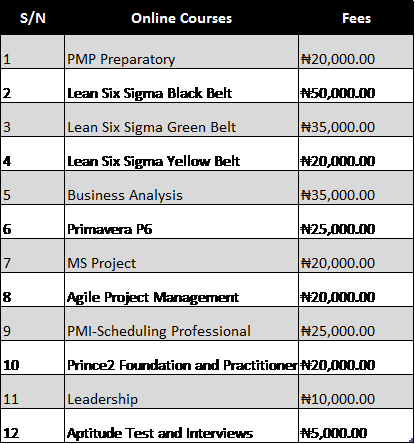 PAYMENT INFORMATION: Monies can be paid to:
Access Bank
Poet Solvers Limited
0006551542
OR
UBA
Poet Solvers Ventures
1005870878
Those that paid to the bank should please, send their teller number to this email address (support [at] pmtutor [dot] org).
N/B: For Security Reasons, we may not collect payments in our office or at the date of training. All payments must be settled before class begins. 
______________________________________________________
Snapshot of the Our approach to the PMP Knowledge Area.
Chapter 1 – Project Management Introduction
Stakeholder Analysis
Project Management Plan
Enterprise Environmental Factor
Competing Project Constraint
Business Case, SOW and Project Charter
Baseline
Role of PM
Chapter 2 – Project Scope Management
Plan Scope Management
Collect Requirement
Define Scope
Create WBS
Validate Scope
Control Scope
Chapter 3 – Project Time Management
Plan Time Management
Define Activities
Sequence Activities
Estimate Activity Resources
Estimate Activity Duration
Develop Schedule
7. Control Schedule
Chapter 4 – Project Cost Management
Plan Cost Management
Estimate Cost
Determine Budget
Control Cost
Intro to Earned Value
Advanced Earned Value Management
Chapter 5 – Project Quality Management
Plan Quality Management
Perform Quality Assurance
Control Quality
Advanced Quality Management Tools
7 Quality Management Tools
Chapter 6 – Project Human Resources Management
Plan Human Resource Management
Acquire Project Team
Develop Project Team
Manage Project Tea
Advanced HR Theory 1
6. Advanced HR Theory 2
Chapter 7 – Project Communication Management
Plan Communications Management
Manage Communications
Control Communications
Chapter 8 – Project Risk Management
Plan Risk Management
Identify Risks
Perform Qualitative Analysis
Perform Quantitative Analysis
Plan Risk Responses
Control Risk
Chapter 9 – Project Procurement Management
Plan Procurement Management
Conduct Procurement
Control Procurement
Close Procurement
Chapter 10 – Project Integration Management
Develop Project Charter
Develop Project Management Plan
Direct and Manage Project Work
Perform Integrated Change Control
Monitor and Control Project Work
Close Project or Phase
Advance Cost Theory
Chapter 11 – Project Stakeholder Management
Identify Stakeholder
Plan Stakeholder Management
Manage Stakeholder Engagement
Control Stakeholder Engagement
Chapter 12 – Mock Exam
_______________________________________________________
SNAPSHOT OF OUR MS PROJECT 2013 TRAINING 
MSP Practical Workshop
 Initializing Project
Creating a New Project
Create and Manage Calendars
Creating Customs Field
Create Options Settings
Create Task Based Schedule
Set up of Project Information
Create and modify a project task structure
Build a logical schedule model
Create a user controlled schedule
Manage Multiple projects
Managing resources and the assignments
Enter and Edit resource information
Apply tasks type and scheduling calculations
Assign Resources
Edit Assignments
Manage Resource allocations
Manage Resource allocations using team planner
Model Project Costs
Tracking and analyzing a project
Set and maintain baselines
Update actual progress
Compare progress against baseline
Resolve Potential Schedule Problems by using task inspector
Display Critical path information
Earned Value Mgt
Communicating Project Information
Apply Views
Customize Views
Format Views
Share Data with External Sources
Print schedules and reports
________________________________________________________
Scope for PMtutor Primavera P6
Calendar defining hourly & daily
Calendar weekly , monthly
Activities – definitions, sequencing & estimating duration
Effectively using the four types of PDM relationship
Scheduling the project
Monitoring & project controlling
Defining constraints & overcoming conflicts
Defining & assigning activity codes
Defining & assigning WBS codes
How to organize the activities by using activity codes & WBS codes
Reorganizing activities
Filtering activities
Defining project codes
Preparing resource information
How to apply resource to each activities
Estimating the cost of the project
How to analyze the resources by using resource profile & resource table
How to do resource leveling & resource smoothing using crasing , stretching & splitting
Scheduling multiple projects & preparing a master project
Updating the project progress & campaigning the actual progress with the baseline
Earned value management
Preparing different types of reports
How to prepare "S" curve
Highlighting the progress in the bar chart
How to manage risk
_______________________________________________________
Snapshot of Our Business Analysis Training
Introduction to PMI-PBA℠Certification
Overview of certification process, requirements, and application tips
PMI-PBA℠Exam overview
Exam Content
5 Domains
Business analysis terminology
Practice Exam Questions & Review
Needs Assessment
Define the business problem or opportunity
Determine the value proposition
Develop project goals
Identify stakeholders
Analyze stakeholders
Techniques

Decision making
Communication skills
Conflict management
Project methodologies
Stakeholder analysis

Practice Exam Questions & Review
Business Analysis Planning
Review business case
Define strategy for traceability
Develop management requirements plan
Plan requirements change control
Plan for document control
Define solution acceptance criteria
Techniques

Contingency planning
Development methodologies
Requirement management plan
Estimating tools
Planning tools and techniques
Schedule tools and techniques

Practice Exam Questions & Review
Business Elicitation and Analysis
Elicit requirements
Analyze requirements
Perform gap analysis
Allocate requirements
Obtain requirements signoff
Write requirements specifications
Validate requirements
Elaborate and specify detailed requirements acceptance criteria
Techniques

Analytic Tools
Business Rule Analysis
Data analysis
Decision making
Elicitation tools
Interface analysis
Measurement tools
Organization assessment
Prioritization tools
Problem solving
Process analysis
Requirements types
Root cause analysis

Practice Exam Questions & Review
Traceability and Monitoring
Track requirements
Monitor requirements
Update requirements status
Communicate requirements status
Manage changes to requirements
Techniques

Backlog management
Change control
Reporting
Requirements traceability
Version controls

Practice Exam Questions & Review
Evaluation
Validate test results
Communicate solution defects
Obtain stakeholder signoff of solution
Evaluate solution value
Techniques

Lessons learned
Quality management
Validation tools and techniques
Verification methods
Practice Exam Questions & Review
Test-Taking Strategies
The exam process: what to expect
Study and test tips
Creating your own test prep strategy
Discuss simulated "take home" exam and online study exam strategies
Practice Exam Questions & Review