I always say this more than 3 times in any of our training session(s) – all learning must be accompanied with a practical paradigm even if it is geared towards passing an exam. We do not just offer a 100% Money-Back Guarantee on a whim, we have done the statistics and know the secret to passing these exams. Hands-on practical eliminates cramming and redundant imagination – this is why we are offering a FREE Microsoft Project Training to our PMtutor Online Training for PMP and CAPM ending on 30th of April 2014.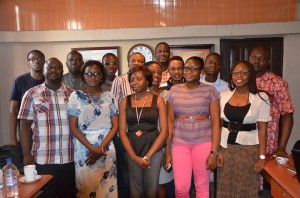 April 2014 Delegates to our PMP Training Preparation with Practical Approach called PMtutor Premium
Since April 2014, we have reengineered our PMtutor Online for PMP and CAPM to make it rich and robust towards 100% Guarantee to passing the PMP and CAPM exam. Some of the changes include but not limited to:
Increase in Access time from 30days to 60days: to give more time for assimilation and encourage students to ask questions from their online coach.
Timed Evaluation testing to mirror Exam scenarios: simulating the real exam begins from day 1 of study. Frequent use and encounter with time-based simulation questions eliminate the psychological challenge of wordy questions in the exam.
Additional Mock Exams making it a total of 3: We want to make our online training a one-stop resource to passing the exam. Giving students more Exams helps save a lot of money procuring extra resource to pass the exam.
A very rich Resource Section to aid preparation for the Exam: Understanding that students need more resources like Flash Cards, Dumps, Formulas, ITTOs, etc to pass the exam is an understatement. PMtutor recognizes that some students learn better when things are kept simple.
Assignment Section to put imagery and pictures to a theoretic course: Theoretical training can become very arduous, tasking and boring. To make it colorful, fun and impactful, PMtutor has included the Assignment Section to bring fun to teaching.
And lots more, kindly use the link PMtutor Online HERE to know more:
Please, see below other PMtutor package offerings or use PMP HERE: