On the 25th of January 2014, I will be teaching 4 people free of charge on using SAP ERP Project Systems module to schedule projects. This training is valued at 120K only! This will be an addendum to this January SAP Essential Workshop, which will be an extra 5 hours to the regular 3 hours training. This offer is for the first 4 people to register for the January FREE SAP Workshop. For details on registration, click SAP Essential Workshop here.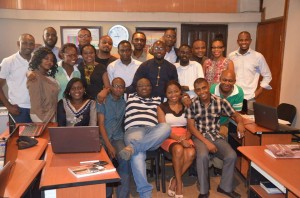 In the middle, Dipo with January 2014 Delegates to our PMtutor Premium
This promises to be an excellent opportunity – I will let our delegates of PMtutor Premium, January 2014, tell you about what to expect when you train with me:
Mr. Dipo is a guru in any aspect of transferring the knowledge to the candidates out of his wealth of experience. He makes the class fun – IJOMAH NDUKAKU THEODORE, ENGINEER, AFRICOAT SERVICES COMPANY
He is simply the best. His mode of interactive teaching ensure that areas of focus sticks in one's memory. Dipo, no doubt is a fantastic teacher, coach, coach, guidance- OHIOMA UDEH, QUALITY MANAGER, SERVICE QUALITY MANAGEMENT CONSULTING
GOOD. TEACHES WITH MUCH ASSUMPTIONS. VERY KNOWLEDGEABLE AND SENSITIVE. FRIENDLY– DANIEL, TELECOM ENGINEER (VAS), ETISALAT (EMTS)
Excellent- ALABIADE ATILOLA KEHINDE, PROJECT SUPPORT, BAT COMPUTER TECHNOLOGY LIMITED
He has a good and profound understanding of PM. He needs to take more knowledge areas besides project cost management – SHITTU AKEEM, IT ANALYST, OPTIMA SYSTEM LIMITED, ILUPEJU, LAGOS
Guru in the field as such teaches with ease and also cracks one up with his jovial nature which helps in reducing tension – CHINEDU OLATUNJI, BAT COMPUTERS TECHNOLOGY
Excellent in the ways he explained all the topics and made it all easy to understand- IBUKUNOLUWA FABIYI, ADMINISTRATION, F.O. FAGBOHUNGBE & CO.
Excellent delivery of lectures – ROTIMI AINA, TELECOM ENGINEER, BAT COMPUTERS TECHNOLOGIES, EGBEDA, LAGOS
Impressive teaching and training method is excellent. Expository and detailing. – AYOOLA AYENI, HEALTH INSURANCE, EXPATCARE HEALTH INTERNATIONAL, LIMITED
Nice coach, ability to teach or impart. – KINGSLEY JEPHTER, LEGAL PRACTIONER, SERVARMOUR NIGERIA LIMITED
Friendly but knows what he is teaching, using practical, instances and theory for explanation – AJAYI OLUWAGBENGA, CIVIL ENGINEERING, IKAGE SD COLLEGE
Excellent and savvy in delivering. Very easy to make the class follow him with ease – OSANYINTOLU AUGUSTINA, REVENUE CONSULTANT, ALPHABETA CONSULTING
Excellent Trainer – TAIWO OLUDARI ADELEYE, COMPUTER ENGINEERING (TELECOM), BAT COMPUTER TECHNOLOGY LIMITED
Very funny guy. Thumbs up to you – OMOLABI OLATUNBOSUN, TAX CONSULTANT, ALPHA-BETA CONSULTING LLP
Excellent practical examples – OJELABI OLUDOLAPO, ARCHITECTURE/CONSTRUCTION, VERTICALIMAGES LIMITED
He is very good – HEZEKIAH ONYEKACHI DARLINGTON, PROJECT BUSINESS MANAGER, LAMBOGHINI INC. LIMITED
Excellent. An experienced trainer with vast knowledge in all the project management areas. He uses practical examples as well – ADETOKI OLUKEMI DADA, ACCOUNTANT, BAT COMPUTER TECHNOLOGIES, LIMITED
He is good with both practical examples, software usage and humorous presentation style – ANDERSON UYOYIU OVIEMAIGHO, IT PROFESSIONAL