Though its a rigorous stage of passing my PMP exam, this training and evaluation has exposed me to the reality of PMP, and has prepared me well to take the exam. It has also exposed me to areas I still need to focus and study hard to enhance my success in the exam and my project management career. Thanks to PMtutor for putting this up, and PMP for the opportunity to exploit and express myself. Lastly special thanks to Mr. Dipo Tepede for putting this up to us. More power to your elbow sir! And I hope to give you a proper feedback when I pass the PMP exam. Thanks. Osasona James Olutimi, 08036247206.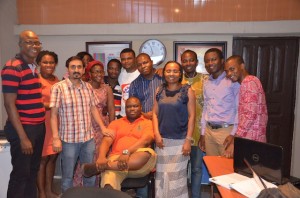 Above Picture: Just concluded May 2013 PMP Group Class Pics with Dipo Tepede
As a coach, positive feedbacks like the one above only makes me work harder to ensure the success of my students. Its great joy to hear my students call me and thank me for passing this subtle but arduous exam. Positive result is the only excuse I tolerate from my students. For those who may not know, the exam on the 4th edition of the Project Management Body of Knowledge (PMBOK) ends on the 31st of July and in my usual style, I want to ensure the success of 10 willing PMP exam candidate with barely 2 months to go.
Now, more than ever, more than 85% of people are failing the PMP exams. A piece of advice – Do not waste your 555 dollars to PMI. These 10 individuals should willing to submit themselves to the scrutiny and revelation of their strength and weaknesses and ensuring that they pass the exam at first try – 100% guaranteed. This is for those who have obtained the 35 contact hours certificate.
Fee: N30, 000 (for PMtutor Graduates), N50, 000 (for non-PMtutor Graduates)
Time: 10am to 4pm Daily for Classroom Coaching
Date: 18th, 19th, 25th and 26th of May 2013 for Classroom Coaching.
Venue: The PentHouse: 125A Apapa Road behind Skye Bank by Costain Bus Stop
What do stand to gain?
1)   4 days of Classroom Preparation for the Exam valued @ 60K
2)   1- month of 1600 simulation questions online valued @ 10K
3)   FREE Video for easy memorization of key concepts valued @ 25K
4)  FREE Audio Flashcard to listen anywhere on mobile devices, cars and even in shower valued @ 15K
5)   Free Registration of Application for PMP exam valued @ 15K
6)  All Project Management Document templates like Risk Register, Statement of Work, WBS Dictionary, etc
7)   One on one with Dipo Tepede – 2days before you write the exam (Priceless)
All payments must be made on or before 15th of May. Please, send a mail to "me at dipotepede dot org" for space availability and to get the bank details.
N/B:  Please, see important notices below:
We will be giving a special account to pay money into – Do NOT pay money into any other account before verifying if you are included for the class.
If you pay money into our company account without verifying, it will take 30days before we can refund your money.
After verifying space availability, you are giving only 3 hours window to pay and send bank details before we cancel your booking.
Thank you for complying! Have a nice day!
More on PMtutor Menu
1. To view Testimonies and Pictures of Events. Click PMtutor HERE
2. PMP and CAPM certification courses. Click PMP and CAPM HERE
3.  Six Sigma Black Belt Certification courses. Click Six Sigma HERE
4.  PMI Certification courses. Click PMI HERE
5. Project Management Software courses. Click PM Software HERE
6. Discounts, Scholarships and FREE Training. Click Scholarships HERE