ThL W8 is without any reservations better than the Galaxy Grand. I guess the reason for comparing the two mobile phones is because of their similarities in using stand-by double SIM, five-inch size and operating on Android 4.1 platform. Apart from these similarities, ThL W8 despite being inexpensive for it's numerous functions surpasses the Galaxy Grand in so many ways: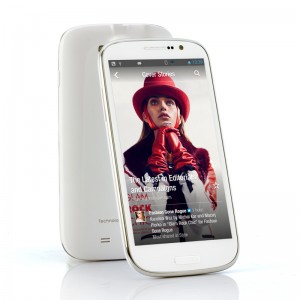 Above picture is a cross-sectional view of ThL W8.
DISPLAY: One of the most important thing about a phone is its display – the browsing experience, reading emails, eBooks or news on Flipboard, playing games, watching a video clip and viewing pictures. The ThL W8 comes with HD 320 PPI display (1280 * 720 resolution) compared to Galaxy Grand's LCD 187 PPI display (480 * 800 resolution). In this respect, you cannot even compare Samsung's current best phone Galaxy S3 that has 1280 * 720 resolution but a 306 PPI display, which is lower than the ThL W8.
SPEED: Apart from display, another important phone metrics is the speed. I love multi-tasking so this is a vital one for me. I want to open multiple Apps without thinking of crashes. I want to touch an App and it opens instantly despite many open Apps. No hung games or videos. The speed of the Phone ultimately affects the browser speed. ThL W8 and Galaxy Grand are both 1.2GHz processor and 1GB RAM but the ThL W8 is Quad Core compared to Galaxy Grand's Dual Core that means ThL W8 has 2 times the processor of Galaxy Grand. This is speed at a Zap.
CAMERA: I am not a fan of phone cameras but you may never know when it becomes a work around for your SLR camera especially during emergencies. ThL W8 with its 12Mega Pixel Rear and 5 Mega Pixel Front is more than capable compared to Galaxy's Grand's 8 Mega Pixel Rear.
BATTERY LIFE: Every Smart Phone needs a good battery life because of its functions. ThL W8 tells us about usage time which involves browsing, portable wireless tethering with your notebook, downloading, playing games, music, video and talking. Galaxy Grand only defines its battery with talking. Galaxy Grand has a talk time of 10 hours compared to ThL W8 usage time of 6 hours. However if we assume that talk time and usage time are the same, ThL compensates by giving you two units of 2000mAh batteries compared to Galaxy Grand's one 2100mAh battery. With two batteries, you have the freedom to play with your mobile phone.
I can go on and on but I got to stop here and allow you do your own research. Galaxy Grand currently goes for 65K.
So many people wanted me to get them the ThL W8 but there is a huge bump in price for ThL W8 because of its demand. Due to this, the price has been reviewed upward but it is still not as expensive as the Galaxy Grand.
PRE-ORDER PRICE for ThL W8: N52, 000
60% of money is collected upfront and the rest when you receive the phone.
Phone is collected maximum of 10days after initial payment.
You can contact us by clicking Contact Dipo HERE
See more ThL W8 pics below: