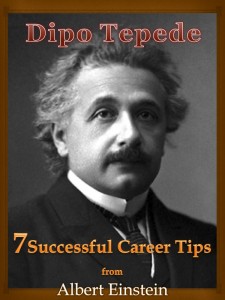 This short report is written for motivation and exhortation. All messages are derived from Albert Einstein quotes (in orange italics) under the guidance of the Holy Spirit.
The first commandment that God gave to man is "work" hence being successful in our chosen career is vital to our existence.
I have chosen Albert Einstein to look up to when it comes to career advice.
Why?
Time Magazine awarded Albert Einstein as the Man of the 20th century.
To know more about this ebook, kindly read below:
> This is a 10-page eBook hence easy to read
> Gives u insight into what makes Einstein a success
> It will change the way you see your career
> It is guaranteed to motivate and exhort you
> Download link valid till 15th October, 2012
You will get this ebook FREE by subscribing to our newsletter.
Kindly click HERE to subscribe.
Have a cool independence day ahead!