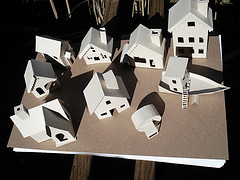 I was recently invited to a seminar at the Chamber of Commerce on Affordable Housing in Nigeria though I was not able to attend; my colleague was duly represented and sent me the report. I liked what I saw and decided to post it for public consumption. Please, kindly note that I have no connection with the organizers in any form or kind – I am just sensitizing those that are interested. Please, see below:
It commenced by 10:50am with an opening prayer by Mr. Tunji Akinyoade (Div. Head, Treasury & Investment).
Mrs. Olajumoke Fashanu (GM, Business Development) stepped in to speak on the topic.
She started by introducing the organization that organized the event as Resort Savings & Loans (RSL) Plc. Mortgage Bankers. RSL was incorporated in 1933 and commenced in 1934.
She explained that RSL had a vision which is: A Leading and Reputable Mortgage Banking Services Provider.
She gave the Mission Statement of RSL as "Rendering Seamless Mortgage Banking Services that ensure Customer Satisfaction and Impressive Returns to Stakeholders in a Technology Driven Environment". She also added that RSL is also involved in building businesses.
She introduced the National Housing Trust Fund (NHTF) program managed by RSL as their means of financing affordable housing in Nigeria. NHTF was established by decree No. 3 of 1992 to facilitate the continuous flow of low-cost funds for long term investment in housing for the benefit of Nigerians.
The kind of Loan Amount that can be had by an individual or corporate body was given as seen in the table below:
| | | |
| --- | --- | --- |
| S/N | Amount | Equity (%) |
| 1 | N5,000,000 – below | 10% |
| 2 | N5,000,000 – N10,000,000 | 20% |
| 3 | N10,000,000 – N15,000,000 | 30% |
Equity here means the cash or ready money an individual or a corporate body has to have available in the National Housing Fund Account before the loan can be released. E.g. If one wants to take a loan of N10,000,000, the equity .i.e. the ready money that one has to have in the NHF account will be (20/100)  × N10,000,000 = N2,000,000.
The features of the NHTF are:
1)    Minimum initial deposit of N20,000
2)    2% p.a interest rate on NHF deposit account.
3)    Automatic qualification after 6months of continuous contribution.
4)    Repayment period is 30years.
5)    NHF loan attracts 6% p.a interest rate.
6)    The property is the sole collateral. i.e. properties with a Certificate of Occupancy (C of O).
Target Audience of the NHTF is:
Low and Medium income earning individuals.
Private Sector employees and Public servants.
Self-employed, Businessmen & Tradesmen.
Benefits:
Repayment loan is like monthly rent repayment (1/3 of salary)
Your contributions does not determine the loan amount
The questions raised were answered. The following are the questions raised and answered:
Question: When mortgage bankers explain their way of banking, it always seems like the procedure is so simple and there are no backdoor charges. Does RSL have any backdoor charges?
Answer: RSL has no backdoor charges rather there are associated charges with the each home that is developed. There is a charge of N180, 000 for each home.
Question: What if someone already has his/her equity ready. Can such a person pay the equity at once instead of building it up and get a loan immediately?
Answer: The idea of building the equity is for those who do not have it at once. If one has the equity ready, such a person can pay and get a loan within a space of 6months.
Question: Can RSL help those who already have landed property possess a C of O since it is very difficult to get one?
Answer: Helping people to possess a C of O for their landed property can be arranged.
Question: If a person eventually gets his own property through RSL, is a C of O readily available for such a person?
Answer: RSL has a global C of O to safeguard your property until yours is processed and tendered as long as you get your building through them.
Question: If someone already owns properties and wants to have a joint venture with RSL, will that be made possible?
Answer: If one wants a joint venture, RSL will look into it and come to a decision.
Question: If an individual has already built properties in different states around the country, can RSL help that individual manage these properties?
Answer: RSL can manage your properties for you and make it easier for you to get value for your properties without having to run around the country every time. They delegate people to make sure that the properties are exactly the way you want them and see to it that your tenants pay up when they should.
Question: Can you get as many loans as possible?
Answer: The NHF loan is only available to an individual once in a lifetime. In other words, you can't get the loan two times.
Question: How can one register to have access to the NHTF?
Answer: For paid employers, the company registers and then the individuals come to process their loans. If an employer wants to register on his/her own, that person will be registered as a self-employed person.
Question: If you already have a building that has not been completed and need RSL to help out, what is the procedure?
Answer: RSL provides a bridging loan. To get access to this loan, you open a NHF account which is keyed into the RIMPLAN. The downside to this kind of loan is that the % per annum is 18%. It is advised to try to get a loan overtime so that the % is lower.